Summary of St. Polycarp Environmental Ministry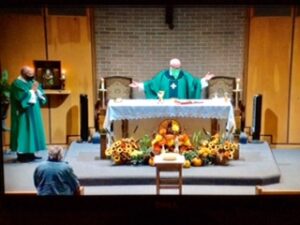 The environmental ministry at St. Polycarp is responsible for a diverse list of duties; ranging from simple, to complex and time consuming. We are responsible for keeping the church
looking presentable, and concurrent with the liturgical calendar throughout the entirety of the year.
The environmental ministry decorates the church thoroughly during the Christmas, and Easter celebrations; however, those two holidays are not the only two the ministry recognizes as
important. There are the more difficult times throughout the year, like trying to create minimalist décor during the period of Lent, or Ordinary Time, is a challenge to be embraced each new
year. While Advent is also given its due respect.
The Ministry must also comply with any parishioners' request for a memorial or remembrance bouquet throughout the year- given the requested date doesn't impede with any previously mentioned celebratory Masses.
Minimal duties included in this position are vacuuming and sweeping after the decorations are set up or taken down; keeping the basement and altar clean and clear of clutter.
We must put away any and all décor not currently being used. We are expected to present new ideas and opinions at liturgical meetings surrounding our ministry. The ministry must also water
all fresh flowers displayed within the church, and trim the plants in order to keep them looking decent and fresh. When the time comes for the decor to be removed, we must do so swiftly and
quietly as to not distract parishioners during their time of prayer. The ministry's newest duty includes the changing of the altar cloths and linens.
We thank you all for your continued support as we are still growing and learning all our duties, and all that this ministry has to offer.