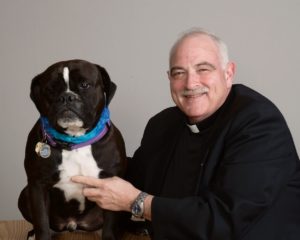 REV. JAMES DONALD HREHA was born in Darby, Pennsylvania.  He received his early education at St. Pius X School and Devon Preparatory School in Philadelphia, Pennsylvania. He began his studies for the priesthood at St. Charles Borromeo Seminary, Overbrook, Philadelphia, PA. Upon graduation he pursued a career in law enforcement as a Correctional Officer at the Chester County Prison. He returned to his studies for the priesthood for the Diocese of Wilmington.  He completed theological formation at St. Mary's Seminary in Baltimore, Maryland and was ordained on November 7, 1987 at St. Peter's Cathedral, Wilmington, Delaware by Bishop Robert E. Mulvee. He was first assigned as associate pastor at St. Elizabeth Church, Wilmington, Delaware. In 1990 he was transferred to be the associate pastor at St. Catherine of Siena Church, Wilmington, Delaware. In 1992 he was appointed chaplain to the Delaware Correctional Center in Smyrna, Delaware and in 1997 he was assigned as associate pastor to St. Peter the Apostle Church, New Castle, Delaware. In June 2000 he was assigned as associate pastor at St. Edmond's Parish in Rehoboth Beach, Delaware with special Pastoral Care of St. Jude Mission. On November 30, 2002 St. Jude Mission was erected as St. Jude The Apostle Parish by Bishop Michael A. Saltarelli and Rev. James Hreha was appointed the founding pastor where he served until being assigned to St. Polycarp Parish in Smyrna, DE in June of 2015. In the summer of 2017, Fr. Jim was appointed Pastor of St. Dennis in Galena, Maryland (effective September 8, 2017) in addition to his assignment at St. Polycarp. Thank you, Fr. Jim, for all you do to shepherd our flocks in building the Kingdom of God!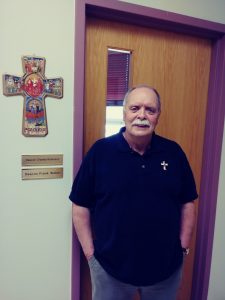 DEACON FRANK WEBER 
"Grace to you and peace from God our Father and the Lord Jesus Christ." (1 Cor 1:3)

Deacon Frank Weber was born in Philadelphia, Pa. and grew up in Glenolden, Delaware County. He was educated in the Philadelphia Archdiocesan School System at St. Joseph School, Collingdale and then at Msgr. Bonner HS in Drexel Hill, Pa.
Deacon Frank is the oldest of ten children to Francis J. and Elizabeth V. Weber. He is married to the love of his life, Debbie and have two children, Michael F. of Pa. and Renee C. of NJ. He lived, was educated and worked in the Philadelphia area until May 1991, where he relocated because of a work opportunity to Freehold, NJ.
Deacon Frank & Debbie spent almost 28 years in NJ and loved it, but our roots always remained "Philly." Truth be told, we would not have change it for the world. God always has a plan for your life; it's up to you to make it the very best you can. And part of that plan included a calling to the Diaconate, where Deacon Frank was ordained a Permanent Deacon on May 13, 2006 for the Diocese of Trenton, NJ by Bishop John M. Smith.
We were blessed to have made many friends and be part of a beautiful faith community at the Co-Cathedral of St. Robert Bellarmine in Freehold, where Deacon Frank served for nearly 13 years.
Life is a book, some chapters are sad, some are happy and exciting, but if you never turn the page, you never know what the next chapter has in store for you. 
Indeed, we turned the page in December 2018, where Debbie and I are now retired and reside in Middletown, De., where I am afforded the opportunity to continue my diaconate ministry of serving the Lord in Word, Sacrament and Charity in the Diocese of Wilmington.
I'm blessed & grateful to serve the faithful of St. Polycarp Parish and thankful to assist Fr. Jim, and the Parish Staff and the wonderful volunteers of Parish Ministry, in building up this faith community.
Be assured of my prayers and humble service, as together we continue to lead the faithful of St Polycarp to a more meaningful relationship with Christ and embrace his "Good News."
"The Lord bless you and keep you! The Lord let his face shine upon you and be gracious to you! The Lord look upon you kindly and give you peace! (Numbers 6: 24-26)
Yours in Christ,
Deacon Frank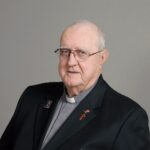 In memory…DEACON CHARLES ROBINSON was born in Staten Island, New York. He retired from the Fire Department City of New York after 21 years of service. He was ordained as a deacon on November 18, 2000 by Bishop Saltarelli and was assigned to St. Polycarp Parish in Smyrna, Delaware. He pursued and obtained his Masters Degree in Pastoral Care and Counseling from Neumann College. Deacon Charles and his wife, Maureen, have been wonderful examples of living lives of service to others.
Deacon Charlie went home to God on April 24, 2021.  Deacon Charlie will always be remembered for his years of service to our parish and for his example of devotion to God and love of others. He will be missed.