ST. POLYCARP CHURCH
KNIGHTS OF COLUMBUS
BROTHER VINCENT COUNCIL 7517
 Who was Brother Vincent? 
DELMARVA DIALOG, AUGUST 21, 1969
He's 96 and still active at boys' home —
A Josephite brother who will celebrate his 75th year in the order at Christmas is still very much an active member of the staff of St. Joseph's Industrial School, Clayton.
Brother Vincent de Paul has worked at Clayton school for the past 30 years. "It was either 1938 or 1939 when I came," he said. "I was alone then (the only Brother) working with 65 boys with the help of four nuns." The boys were taught manual training. "I had to discipline the boys" he explained along with being generally in charge. Fifteen years later more Josephite Brothers came to the school.
He began his work for underprivileged children (orphans, juvenile delinquents, etc.) at Our Lady of Victory in Buffalo, New York. He remained there for the next 35 years working at the trade school. After leaving Our Lady of Victory, he worked for short periods in Cincinnati and Dayton, Ohio. In Dayton, he helped start a school for the blind before coming to St. Joseph's.
Brother Vincent lives with and believes in the mission he has found in his religious life. He enjoys talking about the young people he has seen grow into adulthood. Brother Vincent is still active in the life of St. Joseph's. He teaches carpentry to the young boys, assisted by one of his former pupils.
Brother Vincent is also a frequent visitor at the Smyrna Welfare Home. He spends several hours a week visiting and chatting with the patients.
Brother Vincent — with a twinkle in his eye remarked, "You know, the first hundred are the hardest." 
DELMARVA DIALOG, AUGUST 11, 1972
Brother Vincent de Paul dies in Baltimore —
CLAYTON–Brother Vincent de Paul, 98, of Clayton, oldest member of the Josephite order, died in Baltimore Tuesday, August 8, 1972, at St. Joseph's Hospital where he had been a patient two months.
Long associated with the work at the St. Joseph's Industrial School for Boys in Clayton, Brother Vincent celebrated his 75th anniversary in the religious life last November. He originally joined the Catholic order of the Holy Infants and Youth of Jesus. Several years ago, the only surviving member of that order, he became attached to the St. Joseph's Society of the Sacred Heart (the Josephites). For more than 30 years he lived and worked with African American boys at the St. Joseph's School in Clayton.
Friends and associates remember him, as being jovial, very alert and active. He was one of some 6,000 pilgrims who went to Washington, DC, last October for the Rosary Pilgrimage, joining more than 1,000 from Wilmington Diocese in the full day-long pilgrimage and devotions. As far as anyone knows, he was the oldest pilgrim.
He was born in Switzerland, but came to Buffalo, NY, with his parents' family when he was six. He was schooled there and began his religious life with work at the Father Baker Home for Children in Buffalo. He served for a brief time in Ohio. Thirty years ago he came to the school in Clayton.
Brother Vincent was oldest in a family of nine children and is survived by three brothers living in Ohio and two sisters living in California. His family name is Nussbaumer.
A Mass of the Resurrection will be offered in St. Polycarp Catholic Church, Smyrna, Saturday morning at 10:30. The body will lie in state in the church tomorrow night from 7 to 9. Interment will be in Massillon, Ohio.
St. Joseph's Industrial School is listed on the National Register of Historic Places for its historic importance as an educational institution for young African American men during the time of segregation, and for the architectural significance of the Chapel, a sophisticated example of an Italianate style, basilica-form church, expressed in wood and built in 1896. Founded by the St. Joseph Society of the Sacred Heart of Catholic Church, the St. Joseph's Industrial School provided an opportunity for 'worthy' African American boys with up to five years of industrial training, and secular and religious education beyond elementary school.
JANUARY 13, 2020
Today, the former St. Joseph's Industrial School in Clayton, is the home of the First State Military Academy, an innovative charter high school bringing new life to a historic educational campus with the help of USDA Rural Development.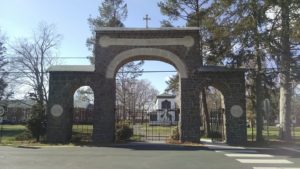 St. Joseph Church
Duck Creek Road (Route 15)
Clayton, DE