Mission Statement
The mission of this movement is to evangelize, with the flame of love of the Immaculate Heart of Mary. We do this by living and spreading her message, so that the love of the Eternal Father and of the Sacred Heart of Jesus, set all hearts on fire.  "Spread the effect of grace of thy Flame of Love over all humanity" (Jesus  to Elizabeth Kindelmann).
Please join us on Thursday nights at 7 pm in the chapel.
We would like to share this lovely devotion to Our Lady, called the Flame of Love Rosary.  There will be copies so that you can follow along.  We will guide you all the way. Come with an open heart.   Join us in praying this devotion that was taught to Elizabeth Kindelmann.  If you are interested in learning about this devotion, just come to the chapel on Thursday evening or contact our harpist, Roxanne at (302) 242-6484 or roxsmb@gmail.com. Roxanne has a copy of the diary of Elizabeth Kindelmann for you.  If you have questions, you can contact, contact Ed Lehman by email (egljr46@gmail.com).
What is the Flame of Love? 
The Flame of Love is Jesus Himself.  The urgency of this devotion is to pass on the Flame of Love to devout souls.   As this happens, Satan will be blinded and souls will find themselves able to respond to God's actual graces.  An addition to the Hail Mary is as follows… "Spread the effect of Grace of the Flame of Love over all humanity."
Where did this devotion come from?
This all started during a time when Hungary had been facing persecution for many years.  Elizabeth Kindelmann received messages from Jesus and Mary between 1961 and 1982.  Together, they taught her the Flame of Love devotion.    This devotion is church approved. EWTN and Catholic.org have a write up about it.
Our Lady once said, "If you knew the importance of the Rosary, you would never put it down!"
Our Lady gave us the Flame of Love Rosary to blind Satan and save souls.  This devotion emanates from Mary's heart. The flame is Jesus…Jesus is love, wanting to leap out into our hearts.
This is a request of the Blessed Virgin: "To the prayer by which you honor Me, the Ave Maria, add the following petition: Hail Mary, full of Grace, the Lord is with the, blessed art Thou among women, and blessed is the fruit of Thy womb Jesus, Holy Mary, Mother of God, pray for us sinners, spread the effect of Grace of Thy Flame of Love over all humanity, now and at the hour of our death. Amen."
Our Lady says, "With this flame you will light all hearts in the world.  The miracle will be this.  This flame will become a fire, and with its shining light, this fire will blind Satan".
May our feet journey together.
May out hands gather in unity.
May our hearts beat in unison.
May our souls be in harmony.
May our thoughts be as one.
May our ears listen to the silence together.
May our glances profoundly penetrate each other.
May our lips pray together
to gain Mercy from the Eternal Father.
Amen.
This is a prayer to blind Satan.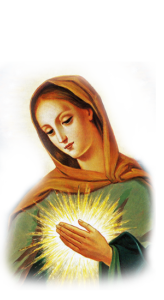 The Flame of Love devotion has four parts:
~ Go to confession.
~ Receive Holy Communion.
~ Say a five decade Rosary.
~ Meditate on one mystery for 15 minutes.
All four parts must be done with the intention of reparation for sins against Mary's Immaculate Heart. Flame of Love believes that this is a very important request.
On June 19, 2013 the Vatican conveys, "His Holiness, Pope Francis, invoking the protection of the Immaculate Heart of Mary, is pleased to impart his Apostolic Blessing, which he extends to the Movement of "The Flame of Love of the Immaculate Heart of Mary."
A description of her [Elizabeth Kindelmann's] spirituality begins the diary.  God comes to the soul with his greatest lights.  As our soul remains faithful to prayer, the capacity for this light grows, and God will lead you to a level of prayer far greater than before.
"It is the duty of every Catholic to contribute to the salvation of souls."  This quote came from Don Dolindo Ruotolo.  Please Google him.  This is also the request from Our Lady.  The Flame of Love is not a new rosary, but a petition to save souls.  Mary says, "Spread the effect of Grace of Thy Flame of Love over all humanity."  Jesus is the flame.
During 2014 and 2015, the Flame of Love Movement was strong only in Philadelphia. 2016 saw a dramatic change as word spread across this nation.  Our Lady is moving quickly, raising up people for their own dioceses.
By God's own arrangement, Mary is the channel to Jesus and from Jesus.   It is God's own goodness and mercy, which comes to us through Mary's intercession. Mary asked Elizabeth Kindelmann to share with us the Flame of Love prayers.  The Flame of Love is the love that flows from Christ's heart.  He wants our love. We need to give it to him.  Just knock and the doors will open for you, along with God's love.
Fatima and the Flame of Love Rosary.  Words taken from a Homily given by Pope Benedict XVI at Fatima in 2010: "At a time when the human family was ready to sacrifice all that was sacred on the altar of the petty and selfish interests of nations, races, ideologies, groups and individuals, our Blessed Mother came from Heaven, offering to implant in the hearts of all those who trust in Her, the Love of God burning in Her heart." The Flame of Love emanates from Mary's Heart.  The Flame is Jesus… Jesus is love, wanting to leap out, into our hearts.
In recent decades, the Catholic Church has received many new devotions.  Pope John Paul canonized St. Faustina and established the new Divine Mercy devotion, which revealed new gifts of Mercy coming from Jesus' heart.  The Flame of Love is similar, making Catholics aware of a new fire coming from Mary's heart.  No one has to believe these private Revelations of Divine Mercy or Flame of Love, but accepting them provides the capacity to receive God's gifts.  Divine Mercy comes from the diary of St. Faustina.  Flame of Love comes from the diary of Elizabeth Kindelmann.
Jesus wants us to adore him with all our heart and soul, mind and body. The Flame of Love will ignite to reach the whole world. There is no place inaccessible to Satan.
The Virgin Mary wants the devotion to the Flame of Love of Her Immaculate Heart to spread throughout the world so that the greatest number of Her children may respond to Her urgent plea.  Through the Flame of Love, we are all invited to take part in the Work of Salvation by blinding Satan, the source of all evil, and thus help the Lord Jesus Christ and the Virgin Mary to save souls.
God leads us on a road, that never ends, but we can turn away from him.  Our spiritual battles can be constant.  Do you decide one day that you are too sleepy to attend church?  Which means no Eucharist.  We all need God.  Come share the Flame of Love Rosary with us.  Our Blessed Lady is calling you to pray and share the love of her Son, Jesus Christ.
All of us go through times when our faith is tested.  We wonder, "Where is God?"  We will feel as if all is lost.  But we need to recall Mary's example of faith at the foot of the cross.  She too, did not fully understand.  She too, stood in darkness.  But remember that she did not give in to the agony that was in her heart.  Our Lady clung to the love of our God with the light of faith.  Come join us to pray the Flame of Love rosary on Thursdays at 7 pm in our chapel.  We all pray together for whatever intentions you have.  Mary is calling us.
Mary is our spiritual mother.  We need to belong to her in an ever more perfect way.  By relying on her powerful intercession, experiencing her tender care, speaking to her from our hearts, letting ourselves be led by her, and trusting her completely (From the 33 Days to Morning Glory).  You are welcome to join us in the chapel on Thursdays at 7 pm to pray the rosary.
The diary of Elizabeth Kindelman, details her life, which includes the mystical trials that God tested her with.  After a time of darkness, in 1962, she took up residence in a garden shed.  Once settled, Our Lord and Our Lady spoke with her for the rest of her life, revealing the mystery of the Flame of Love.  Please join us in the chapel at 7 pm on Thursdays.
In Mathew 6:34, Christ says, "Therefore do not be anxious about tomorrow, for tomorrow will be anxious for itself.  Let the days own trouble be sufficient for the day."  Join us in prayer in the chapel.  Your will discover, that by simply praying the rosary often, God will shower you with His blessings.  Our Lady has asked the Flame of Love Rosary to be prayed so that we could free souls from purgatory and blind Satan.
For additional information as well as to familiarize yourself to the movement, you can visit these websites (http://theflameoflove.org/ and www.FlameOfLove.us).