To see this week's Bulletin CLICK HERE 
Below is additional information that is not included in the current Bulletin or additional details of the information that is included in this week's Bulletin.
---
 THANK YOU. THANK YOU. THANK YOU.
We want our Bulletin advertisers to be successful and we thank them for their continued support of our weekly bulletin.
Please support our advertisers whenever possible and ask if they can be found on the Finding Faber app.


---
Memorial Bricks
Hail Mary, Full of Grace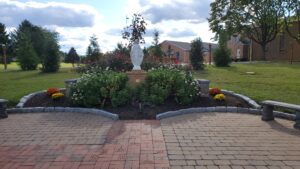 Have you noticed the beautiful 'Memory' walkway leading to our outdoor Blessed Mother statue?  There's no time like the present to add your memorial brick.  Whether you desire to commemorate a loved one, a special occasion, or simply your family name, the choice is yours.  There are two ways to order your bricks.  You can order through Faith Direct at https://membership.faithdirect.net/events/details/5644, (you do not need to sign up for Faith Direct), or return your form with payment to St. Polycarp Church in an envelope labeled "Memorial Brick".  Please place the completed order form (order forms can be found at the doors to the Church) and a check for $80.00, made payable to St. Polycarp Church, in the envelope.  You can place it in the Offertory collection, deliver it to the Parish Office (place in black box), or mail it to the parish office. CLICK HERE FOR ORDER FORM  
---
ST. POLYCARP REMINDERS:
REDNER'S 1% SAVE-A-TAPE FUNDRAISER  Hang onto those receipts until we are all together again!
Turn your food shopping into cash for our parish.  If you are a Redner's shopper, we would welcome your participation.  It is so easy!  Simply be sure to obtain and scan your Redner's Rewards Card each time you shop.  (Remember to shop only out of necessity.) Save your whole receipt. Bring your receipts to the Parish Office or just put them into the collection basket.  There is no expiration date — even receipts months old can be turned in!  Your receipts will generate cash for us.  What a hands-down and effortless way to help St. Polycarp Church.  For more information, contact Joan at (302) 659 – 5317.
REMINDER ABOUT THE PARKING
Please do not park in front of the dumpsters on Monday through Friday.  This prevents the Waste Management Collection and the Recycling Collection from being picked up.  Thank you for your cooperation!
ANNOUNCEMENTS
Don't forget to arrive earlier for Mass so that you won't miss the announcements!  
THANK YOU TO ALL OF OUR ADVERTISERS:
Thank you to our local advertisers who support our parish with their advertisement on the back page.  Let's support them, too!  Have you checked them out lately?