To see this week's Bulletin CLICK HERE 
For information concerning the coronavirus visit our Home page www.saintpolycarp.org
or www.cdow.org – The Catholic Diocese of Wilmington.

Below is additional information that is not included in the current Bulletin or additional details of the information that is included in this week's Bulletin.
---
---
 THANK YOU. THANK YOU. THANK YOU.
We want our Bulletin advertisers to be successful and we thank them for their continued support of our weekly bulletin.
Please support our advertisers whenever possible and ask if they can be found on the Finding Faber app.


---
BROTHER VINCENT COLUMBIETTES MASK FUNDRAISER
Help support the Brother Vincent Columbiettes while protecting yourself and others in the Community. Brother Vincent uses the funds raised to support St. Polycarp PSR and families in need within our Parish. Our Columbiettes are selling masks crafted by our own parishioners Darlene Sanphy, Deanna Lail, Linda Montuori and Angela Gibson.
Masks come in two different styles and several sizes to ensure a comfortable fit, made from two layers of 100% cotton material. Over 200 patterns to pick from including St. Patrick's, Easter, local sports teams, Disney and many more. Custom designs available upon request. If you mention Brother Vincent Columbiettes the Columbiettes will get 20% of the total sale.  Not in need of a facemask at this time? Check out the other products available at https://www.facebook.com/wevegotyoucovered2020/ , if you don't  use Facebook email Darpete87@comcast.net, Deannasanphy@yahoo.com, or starrinhaven@yahoo.com for more information.
---
BROTHER VINCENT COLUMBIETTES SWEEPSTAKES
Brother Vincent Columbiettes Sweepstakes is your chance to win a $75.00 prize in July and help our auxiliary raise funds to help others at the same time.  It is a Covid safe sweepstakes, and anyone can enter. It runs from February 2021 through June 2021. Every $10.00 you contribute to the sweepstakes earns you one chance for the winning drawing in July.  You can contribute $10.00 monthly beginning in February, or you can make one or as many contributions as you would like until it ends. The sweepstakes runs until June 30th.  All contributions received by that date will qualify for the winning drawing.
It is easy to enter; just make a check payable to Brother Vincent Columbiettes and mail to our Financial Secretary, Rosemary Battistoni at 1515 Bon Ayre Circle, Smyrna, DE 19977.  Please make sure your phone number is on your check.  We will call to let you know we received your check. The winner will be notified in July.
If you have any questions, please contact Anna Skinner, Treasurer at 302-508-5369 or anna.skinz@gmail.com. We know these are tough times and we truly appreciate your participation in our sweepstakes.  Thank you and good luck.
---
Memorial Bricks
Hail Mary, Full of Grace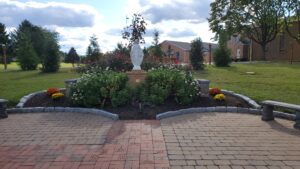 Have you noticed the beautiful 'Memory' walkway leading to our outdoor Blessed Mother statue?  There's no time like the present to add your memorial brick.  Whether you desire to commemorate a loved one, a special occasion, or simply your family name, the choice is yours.  There are two ways to order your bricks.  Beginning November 21st, 2020, you can order through Faith Direct at https://membership.faithdirect.net/events/details/5644, (you do not need to sign up for Faith Direct), or return your form with payment to St. Polycarp Church in an envelope labeled "Memorial Brick".  Please place the completed order form and a check for $80.00, made payable to St. Polycarp Church, in the envelope.  You can place it in the Offertory collection, deliver it to the Parish Office (place in black box), or mail it to the parish office. CLICK HERE FOR ORDER FORM
---
BROTHER VINCENT KNIGHTS OF COLUMBUS
ONLINE FUNDRAISING CAMPAIGN
Spring 2021
The recent pandemic has really caused a lot of stress and has cancelled fundraising for many organizations.  And this is why the Brother Vincent Council has partnered with Rada Manufacturing to help everyone with online shopping.
Rada Manufacturing has been manufacturing cutlery since 1948.  They offer not only remarkable cutlery but must-have kitchen gadgets, scrumptious food mixes, cookbooks and so much more, including inspirational books, A Closer Walk with Thee calendar and even an inspirational coloring book called Colorful Blessings.
Use the personal online group store link:
https://radafundraising.com?rfsn=4603664.8a65ed to browse the online catalog, and then place your order just as you would when shopping with any retail outlet.  Orders are shipped directly to the customer by Rada.
If you have any questions regarding this fundraiser, please contact Joan at busylady39@comcast.net.
---
ST. POLYCARP REMINDERS:
REDNER'S 1% SAVE-A-TAPE FUNDRAISER  Hang onto those receipts until we are all together again!
Turn your food shopping into cash for our parish.  If you are a Redner's shopper, we would welcome your participation.  It is so easy!  Simply be sure to obtain and scan your Redner's Rewards Card each time you shop.  (Remember to shop only out of necessity.) Save your whole receipt. Bring your receipts to the Parish Office or just put them into the collection basket.  There is no expiration date — even receipts months old can be turned in!  Your receipts will generate cash for us.  What a hands-down and effortless way to help St. Polycarp Church.  For more information, contact Joan at (302) 659 – 5317.
REMINDER ABOUT THE PARKING
Please do not park in front of the dumpsters on Monday through Friday.  This prevents the Waste Management Collection and the Recycling Collection from being picked up.  Thank you for your cooperation!
ANNOUNCEMENTS
Don't forget to arrive earlier for Mass so that you won't miss the announcements!  
THANK YOU TO ALL OF OUR ADVERTISERS:
Thank you to our local advertisers who support our parish with their advertisement on the back page.  Let's support them, too!  Have you checked them out lately?